Posted by admin on November 13th, 2011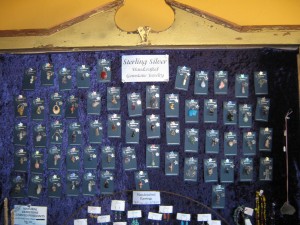 Quarter Moon jewelry on display at the "Cosmic American Outpost." Quarter Moon was one of several area artists featured in a pop-up shop on Mane Street in historic Pioneertown, CA.
For the month of September and most of October, the Cosmic American Outpost featured Quarter Moon's handcrafted sterling silver jewelry, polished gemstones and crystals, carved gemstone jewelry, and handmade gifts. We debuted our recycled notepads (made from Kleenex boxes), and handmade cold porcelain pendants. Both were very well received!
Cosmic American Outpost also featured Christy Anderson's Trailer Tags and Wasted Bracelets, vintage and western clothing from Funky and Darn Near New (a shop in Yucca Valley), and brightly colored paintings and painted objects by Audrey Green from Happy Trails Art Studio (located in Pioneertown).