Posted by admin on June 5th, 2012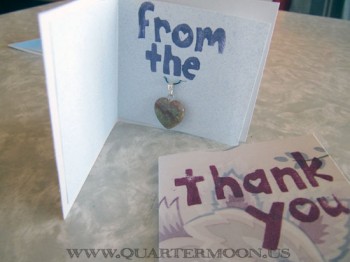 First comes love, then comes marriage… then comes the sending of "thank you" cards for all the lovely wedding gifts!
DIY weddings are increasingly popular, especially now that the Pinterest craze is catching on.
Just in time for June wedding season, this tutorial will show you how to make do-it-yourself "thank you" cards using recycled wrapping paper from your wedding gifts. And this card includes a little something extra… a heart-shaped pendant inside, a little return gift to say "thank you from the heart."
Not just for weddings, these "thank you" cards can be designed to fit any occasion – birthdays, anniversaries, or just because.
If you don't want to make them yourself, you can buy these "thank you" cards pre-made from my Etsy shop, available in singles or packs of four. Designs vary with availability, and can be personalized for a little extra.
Collect Wrapping Paper
First, collect the wrapping paper you want to use. Any kind of wrapping paper will work, but I prefer to use tissue paper. It clings nicely to cardstock, making it look like a printed card.

For an extra personal touch on your wedding gift thank you cards, reuse the wrapping paper wedding gifts. Your recipient will love it – obviously, because they picked out the paper to begin with! Be sure to unwrap your gifts carefully if you plan to do this.

To smooth out really wrinkled wrapping paper, place the sheet between two sheets of parchment paper, and press with an iron on low setting.

Adhere to Card Stock
Gather the card stock you are going to use. You can use any kind of heavy paper, as long as it's thick enough to be rigid, and light enough to fold. Large, blank index cards are good, or business card stock from an office supply store.

Place a few sheets of the card stock on a protective surface, and lightly mist with spray adhesive.

I find it's best to do a few sheets at a time, so you can smooth out the wrinkles while the adhesive is still somewhat tacky.

Carefully lay each piece of card stock adhesive-side down onto the back side of the wrapping paper.Flip the card over so the wrapping paper is on the top, and smooth out the wrinkles.Use a brayer (roller), or a bone folding and scoring tool, or both. Work in firm, even strokes, from the center to the outside edges.

Don't worry if you don't get all the wrinkles out. Get as many as you can, you can take care of smaller wrinkles later, after the cards are cut.

Smooth Out the Wrinkles
I prefer to use the bone tool to smooth out the most stubborn wrinkles. Tissue paper looks like it is printed right onto the card stock.Smaller pieces of card stock, like index cards, are a bit easier to smooth out.

The type of spray adhesive you use will also affect how well the paper smooths out. Adhesive with an extended drying time, or repositionable adhesive for scrapbooking, will give the best results.

Trim Cards
Trim your cards down to size. Cards should be 5″ wide and 2.5″ tall. Click here to download a template.Bonus: he leftover trimmings can be cut into matching gift tags, or may be used for other paper projects.
After your cards are trimmed, use the bone tool to smooth out any remaining wrinkles, again moving from the center toward the outside edges.Fold the cards in half, using the bone tool to sharpen the crease.

Stamp 'Em Up!
Using your favorite "thank you" rubber stamp, and a matching ink color, stamp the image onto the front of your cards and let dry.I bought these adorable stamps from the Etsy store Creatiate. I love how they put hearts inside the letters!
Inside Paper Lining
Trim the inside liners from plain paper. Liners should be 4.75″ wide and 2.25″ tall (1/4″ smaller than the cards). Use the ruler guides on your paper cutter, or  click here to download the template.Any kind of paper will work, but should be thinner than the card stock. For an elegant touch, choose a lightly colored paper to match your cards.

Fold the liners, and use the bone tool to sharpen the crease.

Print or rubber stamp "From The" on the right-hand side of the inside liner. Keep the image toward the top of the sheet, to leave room for the pendant.

Attach the Pendant
Using a needle, punch two small holes in the paper beneath the stamped image.

Use a small piece of wire, twist-tie, or ribbon to secure the pendant to the paper. I prefer to use jewelry wire; the ends can be bent at the back to hold it in place without tape, and it can be easily removed.

You can also use a heart-shaped bead, or anything in the shape of a heart. Use your imagination! I chose to include the pendant because we have tons of them, and it's an extra little gift that somebody might actually wear, or at least keep.

Not sure where to find heart-shaped pendants? Click here to see the ones I have in my Etsy shop.

Affix the Lining
Once the pendants have been attached, fold the liner and apply adhesive to the blank front. The back side of the pendant should not have adhesive, you want that side to be loose so the pendant is easy to remove. I prefer to use a glue stick for this part, it's neater and easier to apply.Insert the liner into the card, matching up the folds and centering top-to-bottom. Press firmly on the adhesive side to secure. You can use a roller or the bone tool to smooth it down, but a good press with your fingers should do the trick.
Cut and Fold Envelopes
Click here to download the envelope template. Print or trace onto paper… you can use matching gift wrap paper, plain white paper, or bright colored copy paper looks nice, too. For a creative touch, try old road maps, magazines or other decorative papers.
Fold along all four corners at the indentions – a straight edge like a ruler or cardboard sometimes helps. Use the bone tool to sharpen the crease.Secure three of the flaps together with adhesive; I prefer to use glue stick for this part.
Pretty finished envelopes!These are not gummed, you will want to use a sticker or tape if you wish to seal the envelopes.
An Extra Touch…
Not just for wedding gift thank-yous, these cards can be used for any occasion. I send one out with each order from my Etsy shop. On the back of each envelope, I've attached a mailing label with my Facebook and Etsy shop addresses.It makes for a great marketing tool, and a nice way to say "thank you for your business!"
Samples
Here's a small sampling of some of the cards I've made, including some winter themed cards (lower left) for Christmas and holiday gift thank-you card.

Be sure to check out my Etsy shop for more designs, gemstone hearts, and other wonderful things!
Tags: Design, DIY Wedding, Etsy, Gift Cards, Gift Tags, Gift Wrap, Paper, Recycled, Thank You Cards, Tutorial